RII20120 Certificate II in Resources and Infrastructure Work Preparation
This qualification reflects the roles of individuals who perform mainly routine tasks and procedures, using limited practical skills and fundamental operational knowledge, and taking some responsibility for the quality of the work outcomes including but not limited to safety and legislative requirements, workplace first aid, undertaking measurements and calculations and using hand and power tools.
This Certificate II in Resources and Infrastructure Work Preparation is a pathway qualification into an Australian Apprenticeship and will prepare an individual to successfully undertake a sector specified Certificate III from the Resources and Infrastructure Industry Training Package; and occupations for example but not limited to; Open cut mining (Coal and Metalliferous), Civil Construction including building and construction trades.
Certificate 3 Guarantee funding may be applicable. (Eligibility criteria applies)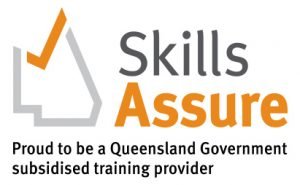 Certificate 3 Guarantee Overview
The Certificate 3 Guarantee supports eligible individuals to complete their first post-school certificate III qualification and increase their skills to move into employment, re-enter the workforce or advance their career. It also supports school students to access training and Queensland's Year 12 graduates to transition to employment by providing fee-free training in high priority qualifications.
 Funding Eligibility Checklist:
To determine if you are eligible for Certificate 3 Guarantee funding, take a look at our eligibility check-list below:
You are a Queensland resident.
You are aged 15 years or over.
You are no longer at school (except for VET in Schools students).
You are an Australian or New Zealand citizen OR Australian permanent resident (including humanitarian entrants) OR temporary resident with the necessary visa and work permits on the pathway to permanent residency.
You are not enrolled in or have completed a Certificate III qualification previously (excludes qualifications completed whilst at school).
For more information pertaining to Certificate 3 Guarantee funding and your eligibility status – Call (07) 4944 1112 or email admin@sharp5.com.au
This qualification is offered face to face and includes 3 clusters (5 days) to be completed within 6 months of initial enrolment.
Through this course, candidates will gain a total of 13 units of competency including key resource and construction skills that are integral and highly sought after by employers and organisations:
To achieve this qualification, the candidate must demonstrate competency in:
Total number of units = 9
4 core units plus
5 elective units, of which:
at least three (3) must be chosen from Group A
no more than three (3) may be chosen from Group B
no more than one (1) unit may be chosen from elsewhere within this training package, or from another endorsed training package, or from an accredited course.
Core units of competency
RIICOM201E Communicate in the workplace
RIIENV201E Identify and assess environmental and heritage concerns
RIIRIS201E Conduct local risk control
RIIWHS201E Work safely and follow WHS policies and procedures
RIIGOV201E Comply with site work processes/ procedures
RIIERR302E Respond to local emergencies & incidents
RIIERR205E Apply initial response first aid
Electives
Electives can be chosen from the following groups:
Group A
RIICMM201E Carry out measurements and calculations
RIISAM201

E

 Handle resources and infrastructure materials and safely dispose of nontoxic materials
RIISAM203

E

 Use hand and power tools
(Pre-trade based units of competency that culminate theory &practical application using hand / power tools & resources for
the completion of two basic practical construction related tasks, with students taking their finished products home)
Group B
RIIWHS202E Enter and work in confined space
RIIWHS204E Work safely at heights
CPCCWHS1001 Prepare to work safely in the construction industry
(Key mining and construction related training providing students with working at heights, confined space and construction induction white card certificates)
Students undertaking certificate III level training and non-concessional students undertaking lower-level vocational training are required to contribute to the costs of their training through a co-contribution fee.
Non-concessional co-contribution fees: $35 per person.
Concessional co-contribution fees: $0 per person.
Students wishing to apply for a concession on co-contribution fees will be required to provide evidence to support an application for concession. Employment status does not matter, you do not have to be employed to enrol in one of the funded qualifications. If you need assistance with language, literacy and numeracy, please phone our office on (07) 4944 1112 to discuss.
The funding may be available to learners to participate in a lower qualification if they meet the criteria. Access the Department of Employment, Small Business and Training fact sheet about providing funded learning for lower-level qualifications (Certificate I and Certificate II).
Please be aware that once you access Certificate 3 guarantee funding, you will be unable to enrol in any other qualifications approved under the Certificate 3 guarantee funding.
Please contact Sharp5 office for more information (07) 4944 1112.